AUTUMN WINTER 2020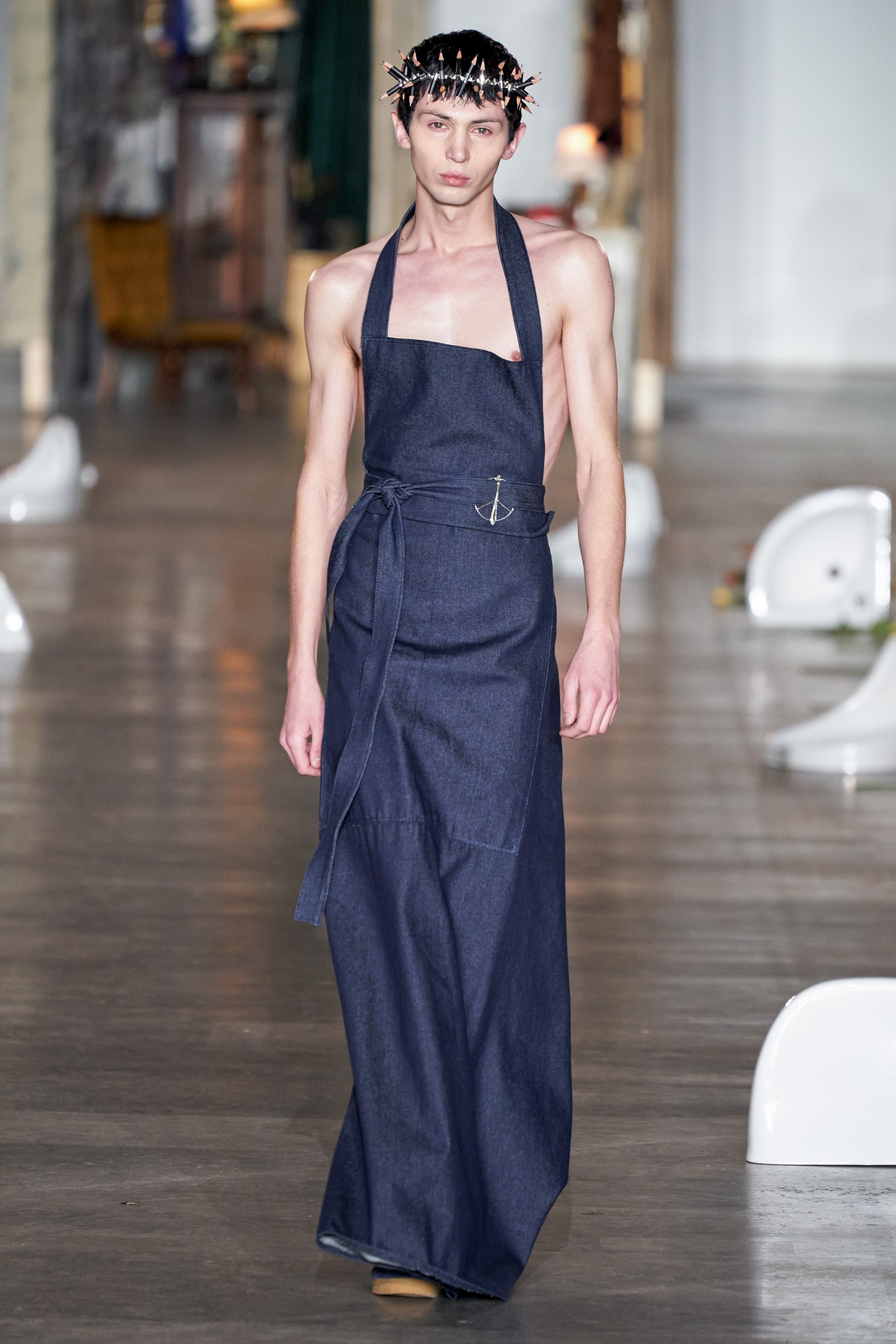 PER GÖTESSON – AUTUMN WINTER 2020

Community and belonging are at the core of the new collection by Per Götesson, as they are of his work and his life.
"Our need for to find community and belonging is now more necessary than ever," says Per.
Per has been inspired by the life of Joe Orton, the queer 60s playwright who lived in Islington, the same borough where Per now lives with his partner, Husam El Odeh. Orton famously collaged his flat using torn pages from library books. The subversion of these collages runs through the collection, with the defiant desire to live and love with freedom.
Per has worked with artist Patrick Waugh to create collages, printed and patchworked onto a denim gilet that's lined with fleece. The images come from old fashion magazines, books about nature or 70s recipe books, their images repurposed and given new meaning.
Denim is Per's signature material, here cut into a trench with unassuming shape at the shoulders and voluminous elegance in the body. There's also a strict-line double-breasted long denim coat that's lined with fleece, and a short black jacket with rough-cut seams at the sleeve head. Each coat or jacket has integrated jewellery made by Husam El Odeh.
Workwear is used to subvert masculinity, like a long jersey T-shirt dress that's ruched at the chest bone, with a black apron attached at the waist. The strap of the apron can hang free, or be worn around the neck. Aprons appear throughout the collection, whether they're layered with shirts, or cut and integrated into other pieces, like the denim bib on a long-sleeve cotton top.
Aprons are also cut in blood-red crushed velvet, while crushed velvet is cut for pants with waistbands of denim. Elsewhere, denim shirts are cut neat at the front, before billowing out at the back with a box pleat and longer length, the sleeves generous with volume. Wide leg denim pants are gathered at the ankle, creating a silhouette like a jodhpur.
Upcycled pieces are a sustainable take on collage, such as a denim jacket mixed with panels of an old leather painted by Per, or long-sleeve cotton jerseys with articulated cut, that patch together elements of found garments.
Pioneering ideas of collage come from his ongoing collaboration with designer Kathy McGee, who uses 3D modelling to create new modes of pattern making. They clashed garments together in the software, purposefully confusing the computer and creating rippling, living patterns, like a morphed hoodie, biker pants or a spliced denim and jersey zip-up.
Husam El Odeh's jewellery makes beauty from the everyday, such as cutlery or coins. Other accessories include denim bags made for specific books, such as The Joe Orton Diaries.
The sets are created by Per's long-term collaborator Tony Hornecker. Students from the London College of Fashion, where Per teaches, have been invited to make their mark on the installation.
"The idea of community is manifested in the set," says Per. "These students are from all around the world, and have chosen London as their place to study, at a time when we need an international community where creatives can work together."
Words: Charlie Porter
STYLING: Gary Armstrong
JEWELLERY – Husam El Odeh
DIGITOILE - Kathy Mcgee
CASTING – Troy Casting
SET DESIGN – Tony Hornecker
H - Fotis Sfetas @toni&Guy
MAKE UP - Mona Leanne @thewallgroup
MUSIC – The Visionist
SHOES – Gola
SHOW PRODUCTION - Blonstein
PR – Agency Eleven
Thank you to all students from London College of Fashion for making your mark on the set design:
Aaron Eshref, Esma Yildiz, Hunter Mcfarlane, Jeong Min Kim, Jiyoung Woo, Linnea Nordquist, Miaofei Huang, Xiaoyi Liu, Xin Qu, ZIWEI Qu

Studio Team:
Marianne Host, Freja Wesik, Johanna, Saimonas Tartenis, Jeongm Kim, Hye Lynn, Yoon Park, Xiquan Peng

Special Thanks to:
British Fashion Council and the New Gen Panel, Charlie Porter, Lulu Kennedy, Anna Malmhake, Natasha Booth, Raphaelle Moore, Donghyun Kim, Liz and Laura from Agency Eleven